新竹科園旗艦校 菁英3C1 Halu Huang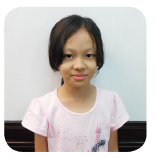 I still remember my best day ever at school. It was one year ago. It was also a windy day in Hsinchu City.
I arrived at school at 7:00 a.m. It was earlier than before. When I went into the class, I talked to my friends. It was the exam day. My friends were very nervous about the exam but not me. One reason was when we finished the exam, we had no homework to do, and we could play whole day at school. Another reason was that we had a party after the exam! We could bring many things to eat, and we played a lot. So after the exam, we ate cookies and candy and played board games all day long.
We will have another exam again soon. I hope it can come quickly, because after that, we can have another fun day at school.