蘆竹光明旗艦校 Intensive 3B Charlie Lai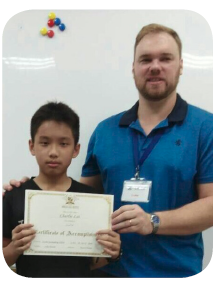 One day, my mom told me to fetch a box. When I went into the garage, I found a huge door. The door looked like a mirror. I wanted to go inside to see what was in there.
When I went in, I felt very hot. I thought I had gone back in time to when dinosaurs were still alive. I said to myself that it was too dangerous here, but when I wanted to go back to my home, the door was gone! I was in a forest. I walked around the forest, and I heard something roaring. I went toward the sound to see what was wrong. I saw a huge brachiosaurus, but I didn't think it could see me because it was so tall. All I wanted to do was to find the secret door. At last, I found the secret door, but the brachiosaurus was chasing me. I quickly jumped through the secret door and went back home. I don't think I will tell anyone about the secret door because it is very dangerous.