苗栗竹南分校 菁英1A KiKi Chung 爸爸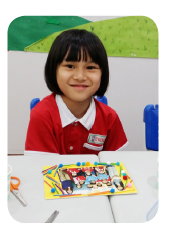 My daughter, Kiki, attended American Eagle Institute (AEI) Chunan Branch 1 year ago. As a Taiwanese parent, English education is always a major issue. Before entering AEI, Kiki had studied English at a local kindergarten for about two years but her progress was limited. After she has gone to elementary school, I seriously considered what is the best circumstance and method of learning English. We looked at the AEI website and consulted with our friends in Chunan about English learning. Now Kiki has studied at AEI for 1 year. I can clearly see her progress. Sometimes she will share her experience at AEI. She says that AEI is so fun that she can play and learn in English. In my point of view, I only wish that my daughter has a happy learning experience especially regarding English. If she can enjoy learning English at first, she will master the language in her future. At AEI, all of the curriculum and activities are suitable for my goal. Everyday when I pick her up at AEI, she will tell me what is happening and what fun it is at AEI. That is my expectation.
Meanwhile, there are many activities for learning English. Kiki has participated in the Speaking Contest this semester. For the Speaking Contest, she not only practices her poem at school but also performs at home. When she comes home, she will say "Daddy and Mommy! Let me show you my poem." We always enjoy her performance and the learning process. Kiki has achieved a lot in English. I would like to suggest that all of the parents with kids under 12 years old to let your kids start learning English as young as possible, because their brains are suitable for learning a new language. Secondly, choosing a good learning environment is so important for nurturing their English skills. Most cram schools are good for learning "English" subject not learning English. At AEI, pupils use English to learn subjects but don't use Chinese to learn English. That is the significant difference between AEI and other cram schools. Otherwise, I would like to thank teacher Sara and other staff of the AEI Chunan branch. Because of you, Kiki has deeply fallen in love with English.