松山敦化校 Standard 3D Bobo 尹梓羽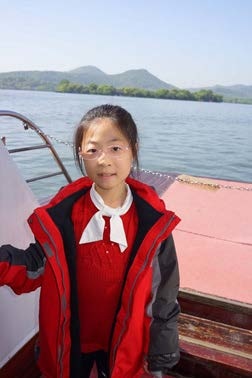 The summer before last year, my dad and mom brought me and my sister to America for summer vacation.We went to a seven day summer camp. It was difficult for me and my sister because we had to speak English instead of Chinese.
On the first day of the camp, the teachers gave everyone a nickname, so it was easier to remember everyone. My nickname was Boba, because it is similar to my real name Bobo and the other reason is that I like to drink bubble tea.
We saw a lot of animals around the campsite, since it was located on a hill. We saw squirrels and birds all the time. Sometimes we could also see rabbits. We saw a doe walking its fawn through our campsite, and our teacher said we were very lucky because it is very rare to see deer in the campsite.
Exploring the camp's bear cave was the scariest event. We had to walk carefully on the paths while our teachers told us some stories about the bears. Some of the caves, were hard to climb so we were very nervous and we had to be very careful until we went back to the campsite.
On the last day of camp, our parents were invited to the campsite to see our daily activities in the camp. We had different groups and each one had different performances, including a small concert and singing songs. We performed a drama in our group that was very fun to rehearse and practice.
This American vacation was really different than my life in Taiwan. There are three reasons. First, we had our classes outdoor in America which is different than what I do in Taiwan. Second, the camp encouraged confidence, which I learned a lot about while I was in USA. Last but not least, we learned that we can make our own choices. The experience changed the way, my sister, my mom, and I thought. We learned to make our own decisions in America including packing our bags or deciding what to wear.
In conclusion, I really like what I went through that summer. I learned lots of things and I'm looking forward to my next journey.