台北大安分校 菁英班3B - Jerrica Yang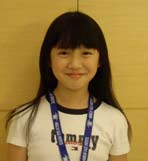 One early morning, Enya awoke and got ready for her job. She walked across the street and went to the bank. She was a banker. She worked very hard and was always fair. She wouldn't take bribes. She was very strong and intelligent.
On the other side of town, Yolane was a servant in a rich family's house. That same morning,her employer got very mad and fired her.She walked past the bank and thought, 'If I go in, steal the customers' money, and rob this bank, I will be very rich." So, she went into the bank.
At 11:00am Enya was helping a customer. Yolane robbed everyone she laid eyes on. She was very small, so it was not easy to see her. She was also very sneaky. As she was robbing the bank, Enya saw her. She ran over to catch Yolane, but Yolane ran quickly out the door. Enya followed. She was in hot pursuit, but then she tripped over a rock. Yolane took this chance to run as far as she could, as fast as she could. Enya slowly got up and walked back to the bank.
When she woke up the next day, she saw it was already 9am. She was late so she rushed to get ready. She went straight to the bank. She worked until night and still felt very dizzy from the fall. After washing her face, she felt a little more energy.
On her way home, she saw the thief from the bank on the other side of the road. When it was a green light, Enya rushed over. Yolane noticed her, so she across the street even though it was a red light. Enya didn't chase her because it was too dangerous. Again, Enya walked back home. She didn't do anything. She just sat in her dark living room. She thought of the thief. She thought of the robbery. She thought of the chase. About a half an hour later, she fell asleep.
The next morning, she woke up as usual. She went to the bank, and again she worked from morning to evening. At noon, she was very hungry, so she went to McDonalds to eat. She thought about how to catch the thief. She thought, "If I act like a thief and talk to her in front of an undercover police officer. I could start to catch these bad people."
She started to work with the police, and they gave her a job. She got this new job because of her wit. She was good at this job. She was so good that she made the whole world peaceful. There were no more thieves, all because of her help.