新竹香山分校 Intensive 4A Bosen Hsu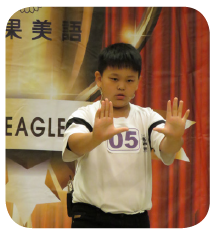 I've always wanted to do magic. I love tricks and illusions, and I would love to have special powers to control time, the actions of objects and other people, and to read their minds. It would be an awesome responsibility to have these powers. Don't worry, I would use my powers for good. Maybe.
If I could control time, I would go back and see the dinosaurs. Don't worry, I will bring one back for everyone to see. I would also stop time during exams and quizzes, so I can check my books and always answer the questions correctly. During Chinese New Year, I will stop time so we can all have an extra long holiday.
If I could control the actions of objects and other people, in the morning I could just move my fingers and the toothbrush will fly into my hand. With a wave of my hand, my toast will be in the toaster and all my homework will be completed. If an accident or plane crash is about to occur, being able to stop time and control objects will help everyone avoid disasters.
If I could read the minds of others, I can tell if people are holding secrets, good and bad. I can tell what my mom will not tell me. I can tell when teachers want to give us a lot of homework. I can even help solve crimes. When a criminal will not confess, or if police think he is lying, I can help them solve the case.
These powers, if used for good, would be great to have. If used for bad, that might be fun, too. Again, please do not worry. I "promise" to be good with these powers.